REPLAY DU Live TALK
Stratégie ABM, de la conception au monitoring :
comment concrètement la mettre en place ?
David Guede
Président & Founder Decide.AI
Olivier Morelle

Chief Revenue Officer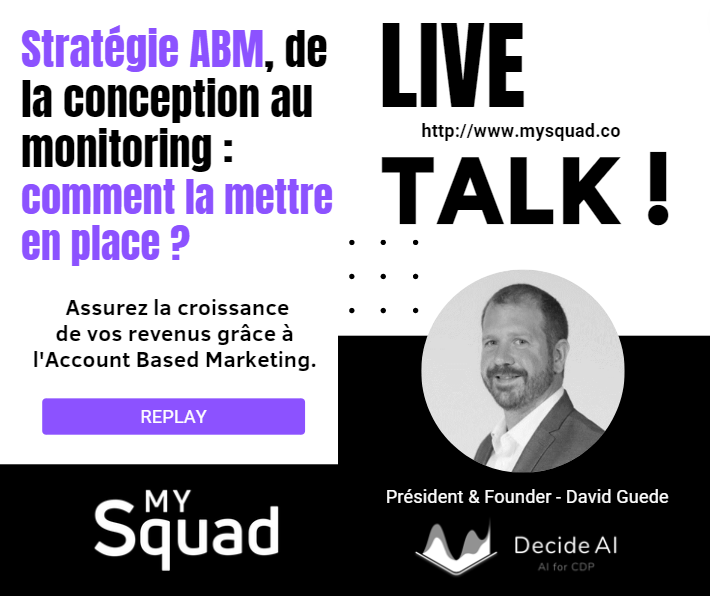 Replay du Live Talk

Durée : 45 minutes
Account Based Marketing
L'Account Based Marketing est une stratégie qui consiste à se concentrer sur les prospects à haut potentiel de conversion.

Au lieu de dépenser beaucoup d'argent en agissant de façon large auprès de très nombreux prospects (principe de l'InBound) qui ne vous intéressent pas vraiment, l'ABM vous permet de vous concentrer sur des prospects ou clients à très forte valeur.
Objet du Live Talk
Vous pourrez poser toutes vos questions à David Guede pour savoir comment implémenter une stratégie ABM, de la conception au monitoring .


L'ABM, tout le monde en parle, et pourtant, peu d'entreprises en font.

Cette approche peut pourtant vous assurer une croissance des revenus scalable et prédictive.
Voir le replay du Live Talk
Accéder directement au Live Talk depuis le lien ci-dessous.
Président & Founder
David Guede
Experienced Data Scientist with a demonstrated history of working in the marketing and advertising industry. Skilled in Statistics, Statistical Modeling, Bayesian statistics and data sciences.
Strong experience in merging data from sources such as CRM and web data in order to guide digital strategies.
Created with